Am 9. September wird der Gewinner des diesjährigen Nationwide Mercury Prize bekannt gegeben. Dieser Preis würdigt das beste britische Musikalbum der letzten 12 Monate. Dieses Jahr ist auch der Dubstep Produzent Burial mit seinem im November 2007 veröffentlichten zweiten Album "Untrue" nominiert. Laut der Quote bei betfair.com hat er auch gute Chancen, sich als Sieger gegen die anderen 11 Kandidaten durchzusetzen.
"its all about the music"
Die britische Klatschzeitung The Sun nahm Burials Nominierung zum Anlass, seine bisher gehütete Anonymität reißerisch lüften zu wollen. Doch der Produzent aus dem Londoner Süden machte der Zeitung einen Strich durch die Rechnung und lüftete das Geheimnis lieber gleich selbst. Auf seiner Myspace Seite veröffentlichte Burial ein Foto und eine Stellungnahme:
for a while theres been some talk about who i am , but its not a big deal
i wanted to be unknown because i just want it to be all about the tunes.
over the last year the unknown thing become an issue so im not into it any more.
im a lowkey person and i just want to make some tunes, nothing else. my names will bevan, im from south london, im keeping my head down and just going to finish my next album, theres going to be a 12″ maybe in the next few weeks too with 4 tunes. hope u like it, i'll try put a tune up later
Eine gewisse Ähnlichkeit zwischen dem Foto von Burial und der Zeichnung auf dem Cover von "Untrue" ist zu erkennen.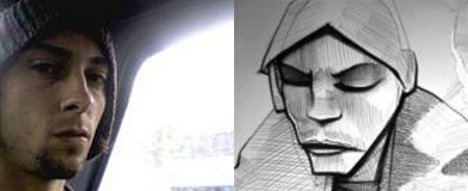 Nette Erwähnung am Rande: Wer bei Google nach dem Namen William Bevan sucht, landet auf williambevan.co.uk – einer Bestattungsfirma: "Googling William Bevan links nicely to Funeral company williambevan.co.uk. Literally. Funeral Directors. Burial. Geddit?" (via disposablemedia)
Weiterführende Links: